Madhumita Raut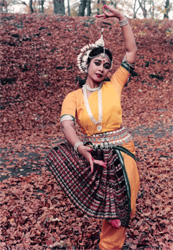 M
adhumita Raut is the inheritor and proponent of her illustrious father Guru Mayadhar Raut's dance legacy. Guru Mayadhar Raut is the pioneering spirit who revived Odissi in 1950s with Shastra-based knowledge. Brought up in Delhi in an atmosphere of dance and music, Madhumita has trained under Guruji with diligence, discipline and dedication.
Today Madhumita is considered the main torch bearer of Mayadhar Raut style/Gharana/Paddhati of Odissi dance. Her dance is known for its strict adherence to Mayadhar Raut Gharana, known for its grace, depth of expresson and technical perfection.
An intense, dynamic and spontaneous dancer, Madhumita Raut has emerged as a dedicated scholar, a passionate Guru, an innovative choreographer and a successful author. She is the force behind the next generation of extensively trained Odissi dancers of Mayadhar Raut Gharana. Perseverance, continuous efforts and uncompromising committment to her art makes Madhumita Raut today an artist to reckon with.
Madhumita Raut received her academic qualifications at the Bharatiya Vidya Bhavan and Indraprastha College. She holds a Master's Degree in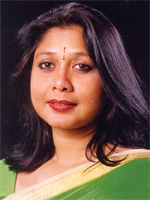 English Literature from Delhi University. She also has a Diploma in Performing Arts. She was awarded scholarship by the Delhi Govt. to study Odissi dance. Later she was awarded fellowship by the Ministry of Culture, Govt. of India, to do further research in Odissi. Madhumita Raut is an A grade artist of Doordarshan (National Television of India) and an empanelled artist of I.C.C.R.
There has been no looking back for Madhumita Raut since her Manchapravesh (Debut recital) at the age of seven at the Jagannath Mandir. After her landmark performances at the age of fifteen at the Acropolis and Delphi Amphitheatre in Greece, Madhumita has gone on to create memorable works. Madhumita's innovations include Odissi compositions on Hungarian poetry, choreographic compositions on the poems of the celebrated German poet Goethe, fusion dances with Balinese dancer Dia Tantri in Holland,dance exposition on Buddha-The Messenger of Peace, Expressional pieces like Dashavatar and Ashtanayikas, based on medieval Indian miniature paintings and others.
Netherlands Channel I has made a documentary film on her. Stuttgart (Germany) and the Hungarian televisions have showcased Madhumita's dance in their documentary films on India. Madhumita has also done a lead role in a film produced by the Dutch television. The film, depicting Indian values, was highly appreciated all over Western Europe.
Madhumita Raut has effectively used the medium of dance for social causes. She has performed for the Indian Cancer Society, WWF (World Wildlife Fund) CAPF (Campaign against Pre-birth Elimination of females), The Art of Living and for the upliftment of the "have-notes".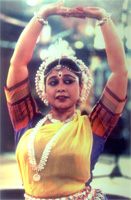 Madhumita Raut has danced in the major dance festivals in India and abroad. The few recitals which are close to Madhumita's heart are the ones presented at Kalidas Samaroh (Ujjain), Chidambaram (Tamil Nadu), Konark (Orissa), Mansar (Jammu), Kumbha Mela (Allahabad), Minjar Mahotsav( Himachal Pradesh), Nishagandhi (Kerala), Bharatpur Ganga Mandir (Rajasthan) and Vrindavan .
Madhumita Raut has performed in major dance festivals in Ireland, England, Scotland, Holland, Germany, Belgium, Hungary, Austria, Spain, Morrocco, France, Portugal, Japan, U.S.A. etc. She has had the distinction of living performed in more than 29 countries, in her mission to propagate Odissi worldwide.
Madhumita is also teaching Odissi very widely in USA, Holland, Germany and Japan.
Madhumita has a natural flair for writing.Her landmark book
Odissi: What, Why and How....History, Evolution & Technique
has been highly appreciated for its in-depth research. Madhumita has also been conducting workshops and giving lectures in prestigious schools and universities in India, Germany and Holland.
Honoured with the Bharata Nirmaan award, Madhumita Raut lives in Delhi where she manages and teaches at the Mayadhar Raut School of Odissi Dance, the most active and result-oriented Odissi dance school in Delhi.