« View Press Gallery »
News & Events

Lec-Dem Series
Parampara Parichay
featuring Classical Dance Stalwarts moderated by
Madhumita Raut
Date & Time: 14th, 15th & 16th of April 2012 at 7pm
Venue: Amaltas Hall (Basement Theatre), India Habitat Centre, Lodhi Road, New Delhi 110003
14th April 2012, Saturday-Session 1:
Guru Mayadhar Raut
speaks on the growth of technique in Odissi dance.
15th April 2012, Sunday- Session 2:
Guru Geetanjali Lal
speaks on growth of technique in Kathak.
16th April 2012, Monday-Session 3:
Guru Saroja Vaidyanathan
speaks on the growth of techniques in Bharatnatyam.

Jayantika Association's Mayadhar Raut School of Odissi Dance presents an evening of Odissi Dance.
Date & Time: Sunday 18th December 2011 at 6.30pm.
Venue: India International Centre, Lodhi Estate, New Delhi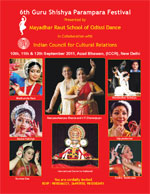 Mayadhar Raut School of Odissi Dance, in collaboration with Indian Council for Cultural Relations(ICCR), presents the 6th Guru-Shishya Parampara Festival.
Dates: 10th, 11th & 12th September 2011
Venue: Azad Bhawan, near ITO, Indraprastha Estate, New Delhi
Time: 6.30pm everyday
The program:
Sept. 10th
The Festival is being inaugurated by
Lalit Mansingh
, Former Foreign Secretary of India and Ambassador to the United States.
Guest of Honour:
Suresh K Goyal
, Director General of ICCR.
The evening will feature -
• Documentary on Guru Mayadhar Raut
• Odissi - Aadya Kaktikar and
• Chhau - Shashadhar Acharya
Sept. 11th
Chief Guest:
Tibor Kovács
, Director and Cultural Counsellor, Embassy of the Republic of Hungary.
Guest of Honour: Shatrughun Jiwnani, Director, Office of PR, Bahai House of worship.
The evening will feature -
• Odissi dance - Sumina Das
• Bharatanatyam - Sudha Sasikumar
• Kathakali - International Centre for Kathakali.
Sept 12th
Chief Guest:
Neelima Risbud
, Dean, School of Planning & Architecture.
Guest of Honour:
Bharat Kapur
, Publisher, The First City.
The evening will feature -
• Mohiniattam - Vijayalakshmi
• Odissi - Madhumita Raut
• Bharatanatyam - Naatyaachaaryas Smt Shanta & Shri V.P.Dhananjayan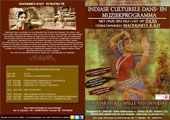 Odissi Dancer Madhumita Raut & students perform Indian classical odissi dance....rare compositions of
legendary Guru Mayadhar Raut in Holland
at Netherlands Isala Theater, Capelle aan den IJssel 11 June 2011.The students accompanying Madhumita are of Surinamese origin and have received training in odissi under Madhumita & Guru Mayadhar Raut in New Delhi.The highlight of the programme is a solo piece by Madhumita from the popular Ramcharitmanas, a masterpiece composition of Guru Mayadhar Raut.
Date: 11 June 2011
Venue: Holland(The Netherlands), Isala Theater, Capelle aan den IJssel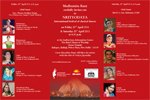 Mayadhar Raut Institute of Odissi Dance presents the
International Festival of Classical Dances - NRITYODAYA 2011
for Odissi, Bharatnatyam, Kuchipudi, Kathak, Mohiniatttam & Chhau.
Date & Time: 6.30pm on the 22nd & 23rd April 2011
Venue: at the Bahai Lotus Temple at Kalkaji, New Delhi

Madhumita Raut received the prestigious
Ghungur Samman 2010-11
in Orissa.
Date: 12th February 2011
Venue: Jayadev Bhavan, Bhubaneswar

Odissi exponent Madhumita Raut received the Mahila Shakti Samman from former chief election commissioner GVG Krishnamurthy at a function in New Delhi, organised by NGO Janasanskriti.

Mayadhar Raut School of Odissi Dance presents 'Om Satvikam Shivam' - Odissi exposition in praise of SHIVA choreographed by Madhumita Raut at 16th Udai Shankar Ballet & Dance Festival.
Venue: Jaipur
Date & Time: 21st February 2011 at 6:30pm.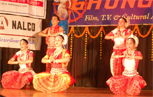 Madhumita Raut
& disciples
Sudha Sasikumar
(from Malayasia),
Stephen Pikaar
(from Holland),
Shruti Prasad, Saniya Singh, Jaya Modi & Prabha Priyadarshini
present Odissi dance at the 30th Ghungur Annual Function.
Venue: Jayadev Bhawan, Bhubaneswar, Orissa
Date: 12th February 2011.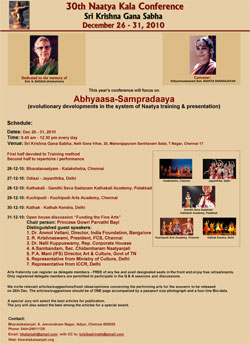 Sri Krishna Gana Sabha presents the 30th Naatya Kala Conference from 26th to 31st December 2010.
Convener: Bharatanatyam Guru Shanta Dhananjayan
Sri Krishna Gana Sabha's Natya Kala Conference (NKC) is a very important event during the Chennai Art festival season in December.
The 30th annual NKC will be held between Dec 26 and 31 (six days). Guru Shanta Dhananjayan will be the convener for the 30th & 31st NKC (for two years).
This year's conference will focus on the
Abhyaasa-Sampradaya (evolutionary developments in the last century)
culminating in today's repertoire and presentation of the five major systems of traditional Naatya, namely Bharatanatyam, Kathakali, Kuchipudi, Odissi and Kathak. A living legendary Acharya will lead each deliberation.
Each day is devoted to one style which will focus on educating and enlightening the commoner and connoisseur to appreciate these performing art forms in greater depth. Particularly the critics, reviewers and students could enhance their understanding and appreciation level.
On the concluding day (Dec 31) whole session will focus on FUNDING CLASSICAL ARTS and how to go about getting funds. Representatives from Government Funding Bodies, Corporate Bodies, Sabhas, will talk and answer questions on the availability and procedure to get funds and opportunities to perform and foreign tours etc. This is envisaged to help various artistes, art institutions, schools, cultural organisations etc
Individuals, organized groups, institutions are required to register themselves as Conference delegates to facilitate designated seat allotments and participate in the discussions and get free refreshments.
A tentative schedule is drawn (subject to dates alterations) as under: (Every day 10 am to 12.30 with a 15 mts tea break) First half is devoted to Training method & second half to repertoire/performance:
26-12-10:
Bharatanaatyam- Kalakshetra, Chennai
27-12-10:
Odissi Naatyam: Jayantika, Delhi
28-12-10:
Kathakali: Gandhi Seva Sadanam Kathakali Academy: Palakkad, Kerala
29-12-10:
Kuchipudi Naatyam: Kuchipudi Arts Academy-Chennai
30-12-10:
Kathak: Kathak Kendra: Delhi.
31-12-10:
Open house discussion "Funding the Fine Arts" This is going to be a very important event with Government departmental heads, representatives (CEO) from Corporate Houses, and Sabha representatives participating in the deliberations. Her Highness Princess Gowri Parvathi Bayi of Thiruvananthapuram, Kerala will be the Chairperson giving her key note address.
Contact:
E-mail:
nkc.skgs@gmail.com
Please mark a cc to
bkalanjali@gmail.com & krishnaganasabha@gmail.com
The Odissi session will be led by the legendry Guru Mayadhar Raut.

You are cordially invited to Odissi Dance recital of Madhumita Raut's senior disciple Aadya Kaktikar. The repertoire
DEVI
will depict various aspects of goddess Durga.
Date & Time: Monday, 15th November 2010 at 6.30pm.
Venue: Triveni Chamber Theatre, Tansen Marg, Mandi House, New Delhi

Yaatra - International Festival of Music & Dance celebrating Guru Mayadhar Raut's 80th birthday from
23rd to 25th July 2010
, at
India Habitat Centre, 6.30p.m.
YAATRA, a three-days festival, celebrates the Gurutattva, which is considered sacred in the Indian Classical arts. This is not a festival of individual artists, but of the entire artist community as a whole, paying homage to our Gurus.
Read more...

You are cordially invited to an evening of Odissi dance by the disciples of Madhumita Raut -
Richa Risbud Sood, Saniya Singh, Sonali Pradhan, Jaya Modi, Amrita Lamba, Surabhi Seth & Ambalika Khanna
.
Date & Time: Friday,18th June 2010 at 7.30pm
Venue: Epicentre, Apparel House, Sec-44, Gurgaon.

Guru Mayadhar Raut was conferred the prestigious
Padma Shri award
for his contribution to the field of Art. He received the award from the
Hon'bl President of India Pratibha Patil
, in a glittering ceremony held at Ashoka Hall of Rashtrapati Bhavan, on 7th April 2010.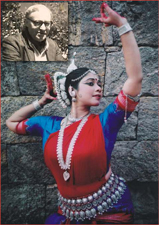 The Hungarian Information and Cultural Centre
cordially invites you to an evening dedicated to
Dr. Charles Fábri
(1899 - 1968), the famous Hungarian orientalist and archaeologist.
Odissi dance recital by
Aadya and Sumina
- disciples of Madhumita Raut
and book-reading from
Odissi - What, Why and How
by Madhumita Raut (published by B.R. Rhythms)
Dr. Shifalika Goenka
, Art connoisseur, has kindly consented to speak on the book
on Thursday, February 25, 2010 at 6:00 pm
at 1/A Janpath, New Delhi 110011
(Near Hotel Claridges)
Seats on first-come-first-served basis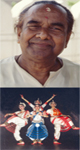 Celebrating the works of legendry Guru Mayadhar Raut by his disciples to pay tribute to their Guru.
Mayadhar Raut School of Odissi Dance celebrates its 34th Annual Day.
The evening will comprise of traditional choreographic compositions of Guru Mayadhar Raut.
The emphasis will be on both, the pure dance as well as the expressional aspect of Odissi
Date & Time: 20th December 2009 at 6.30pm.
Venue: India International Centre, Lodhi Estate, New Delhi-110003

You are cordially invited to Odissi Dance recital by Madhumita Raut and disciples on the occassion of Mandalam Puja celebrations.
Date & Time: Saturday, the 12th Dec. 09 at 6:30 pm
Venue: Ayyappa Temple, Setor-2, R.K. Puram, New Delhi - 22

You are cordially invited to an Odissi dance performance by my senior disciple Aadya kaktikar. The repertoire, choreographed by Guru Mayadhar Raut, will elaborate the Shringar rasa in Odissi as prescribed in the Abhinaya Chandrika.
Venue and Date: Main Auditorium, India International Centre, Lodhi Estate, New Delhi-110003 on 15th November 2009 at 7p.m.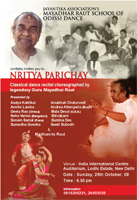 Guru Mayadhar Raut is conducting a workshop in Delhi these days to reach Gitagovinda Ashtapadis and Pallavi. As you know, Guruji is considered a maestro of Gitigovinda, which is the soul of Odissi dance.
The workshop also includes lectures by Mr.Arundhati Kotwal on make-up and costume, Mr. Kiron Pasricha on dance photography and Mrs. Vinita Faridi on media-writing.
The workshop is culminating in a dance performance by all the participating Odissi, Kathak and Bharatnatyam dancers who have come from Brazil, U.S.A. and all over India to specially participate in the workshop.
Participating dancers are Swati Subodh(Kathak), Shivakami(Bharatnatyam), Andrea from Brazil, Aadya Kaktikar, Anubhuti Chaturvedi, Neha Verma from Bangalore, Sumina Das, Mala Desai from USA, Sumedha Goenka, Sonam Samal from Pune, Amrita Lamba, Geeta Rao from Orissa and Madhumita Raut(Odissi).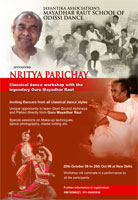 Guru Mayadhar Raut will conduct a workshop in october in New Delhi to teach Gitagovinda Ashtapadi and Pallavi. The workshop is open to dancers of all classical dance styles as the special emphasis is on Abhinaya. Of course the dancers have to be well versed in their respective dance styles.
This is an unique opportunity to learn Gitagovinda Abhinaya and Pallavi directly from Guru Mayadhar Raut.
The workshop will also focus on Odissi make-up, dance photography, costume and media-writing, among other topics. We will also have an interactive session with Guru Mayadhar Raut on the renaissance of Odissi; Guruji is the only living legend of the four Gurus who resurrected Odissi in 1950s in Orissa. The teaching becomes valuable when we directly get it from the person who created what we see today as Odissi dance. There is much to know for serious dancers like what we have borrowed from the Maharis and Gotipuas, how has the form evolved, what is typical Odissi? Are we adhering to Odissi texts? Are we retaining the Odissi flavour as prescribed in our texts? As we all know, Guruji was a Gotipua dancer in his childhood and he will be 80 next year. As he has been dancing since 5 years of age, in him we have a continued history of Odissi from 1930 till today.
Sumedha Goenka, senior disciple of Guru Mayadhar Raut and Madhumita Raut, presents KRISHNA, an Odissi recital seeped in Bhakti Rasa and Shringar Rasa. The dance pieces from Gitagovinda and medieval Oriya poetry will depict the Vaishnava Bhava in Odissi dance.
Venue - Epicentre, Apparel House, Sec-44, Gurgaon.
Date - 19th March 2009, Time - 7.30pm

Madhumita Raut with Smt. Sushma Swaraj, honourable former Union Minister for Information & Broadcasting, on the ocassion of "Dashamahavidya" recital at India International Centre, Delhi.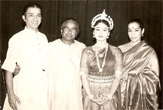 Madhumita & Her father Guru Mayadhar Raut with the famous Dhananjayans (Bharatnatyam Duo) after a recital at Kamani Auditorium, Delhi.

Protiti Roy, disciple of Madhumita Raut, will perform at India International Centre on 1st March 2009 at 6.30pm. The recital named Krishnaye Tubhyam Namah will focus on the Vaishnava Bhava as depicted in Odissi dance. Honourable Dr.Karan Singh and Ustad Amjad Ali Khan are the Chief Guests on the ocassion.

Madhumita Raut & senior students presented Nritya-a dance exposition on 21st February 2009, 1pm, I.P. College, Delhi University, dedicated to protecting the rights of the girl-child and women.