YAATRA
Y
aatra, a three-days festival, celebrates the Gurutattva, which is considered sacred in the Indian Classical arts. This is not a festival of individual artists, but of the entire artist community as a whole, paying homage to our Gurus.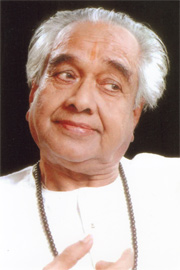 Guruji's biography will be released. It has been written by Aadya Kaktikar and edited by Madhumita Raut. The biography captures the dynamic years of the 40s, 50s to the 70s in the history of Odissi dance. Narrated by Guruji himself and illustrated with extraordinary pictures, the book gives a rare insight into the making of Jayantika Association, Kala Vikas Kendra and the world of Kalakshetra. This is the most detailed and authentic history of Odissi post-independence.
This year celebrates the 80th birthday of the legendary Guru Mayadhar Raut, the living legend of Odissi Dance. Known as one of the four main pillars of Odissi, Guru Mayadhar Raut has been instrumental in reviving Odissi as we know it today, by enriching it with Shastra based knowledge and numerous innovative inputs. His dance style is 'Bhava Pradhan' i.e. Abhinaya is predominant and his choreography has a number of subtle nuances.His greatest gift to Odissi is the Geet Govind Ashtapadis of Jayadeva. He was the first Odissi Guru to choreograph Geet Govind Ashtapadis for modern stage; they are now an integral part of the Odissi repertoire. For his lifetime contribution to Odissi, Guru Mayadhar Raut was honoured with Padmashri by the President of India.
The Festival also salutes Jayantika Association which completes 50 years in the service of Odissi. In 1959 when the classicism of Odissi was at crossroads, Jayantika Association (a group of scholars and dancers formed in Orissa) was responsible for Odissi getting its classical status. As one of the founder members of Jayantika (and the only one alive), Guru Mayadhar Raut has been running Jayantika at New Delhi since 1975.

Yaatra spreads the message of love and joy and looks at the artist community as a big warm family. It is a step towards creating a world symposium on Indian dance & music. Our efforts are based on monumental teamwork and participation from organisations of repute and eminence from India & abroad.
PROGRAMME
Yaatra will feature some stalwarts of our times and Gurujiís(Guru Mayadhar Raut) students from all over the world.

DAY 1- THE STALWARTS (
Friday,23rd July 2010, 6.30pm
)
• Release of Guruji's biography
• Followed by dance recitals:-
Odissi
- Guru Mayadhar Raut
Bharatnatyam
- Smt.Jayalakshmi Eshwar
Kathak
- Shri Jayant Kastuar
DAY 2- THE TRADITION CONTINUES... (
Saturday, 24th july 2010, 6.30pm
)
• Odissi dance by the disciples of Guru Mayadhar Raut from
Holland
(Chandra Sukhai Dance Akademi)
U.S.A.
(Mala's School of Odissi Dance )
Malayasia
(Sudha Sasikumar's Nritya Kalanjali).
New Delhi
(Mayadhar Raut School of Odissi Dance)
DAY 3- ODISSI FROM HOMELAND (
Sunday, 25th july 2010, 6.30pm
)
•
Jayantika Samman
will be conferred on eminent artists from Orissa. It will be followed by:-
•
Mardala Vadan
- Guru Banamali Maharana
•
Odissi Music
- Shri Pradeep Das
•
Odissi Dance
- Students of Kala Vikas Kendra &
Students of Madhumita Raut
Information & Details:
Jayantika Association,
360, Asian Games Village ,
New Delhi 110049.
Ph
: +91 11 26493558
Email
: madhumitaraut@yahoo.com